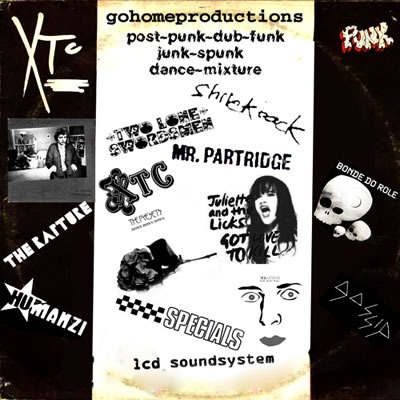 GHP has released a new short mix "Post Punk Dub Funk Junk Spunk Dance Mixture", which aired on the John Kennedy XFM X-Posure show on 22th Feb. This mix consists of Disco Punk, Post Punk and Dub mainly, as the title said. This one is not a Mash-Up mix, but I love it.
By the way, his new album
"Mashed"
entered the UK album charts at No18 and sat on top of the Amazon bestsellers compilations for a while, according him. Great well done, Mark.
GHPが「Post Punk Dub Funk Junk Spunk Dance Mixture」と題した新作のショートミックスを発表。これは、先日のXFMで放送されたミックスのようです。そのタイトル通り、Disco/Post PunkやDubを主とした、かなり今っぽいミックスです。マッシュアップではないですが、個人的にはとても好きです。
また、先週発売された公式マッシュアップ・コンピレーション
「Mashed」
が、UKアルバムチャートで18位に入ったとのこと。また、Amazonのコンピレーション部門では、1位にもなったそうです。
TRACKLISTING
Shriekback "Here Comes My Hand-Clap" 00.00
SebastiAn "Ross Ross Ross" 00.15
XTC "Dance Band" 01.47
LCD Soundsystem "North American Scum" 03.19
Bonde Do Role "Gasolina (Radioclit remix)" 04.55
Mr Partridge "Commerciality" 06.05
The Presets "Down Down Down (Digitalism mix)" 07.01
Juliette & The Licks "Got Love To Kill (MSTRKRFT remix)" 08.34
Two Lone Swordsmen "Nueflex" 10.24
The Rapture "Whoo! Alright-Yeah...Uh Huh" 12.01
XTC "Living Through Another Cuba (GHP dub)" 14.51
The Specials "Friday Night, Saturday Morning" 16.45
Humanzi "Long Time Coming" 19.28
The Gossip "Jealous Girls (New Young Pony Club remix)" 21.23
Vivien Goldman "Private Armies (dub)" 23.27
Go Home Productions -
Post Punk Dub Funk Junk Spunk Dance Mixture