2011.10.04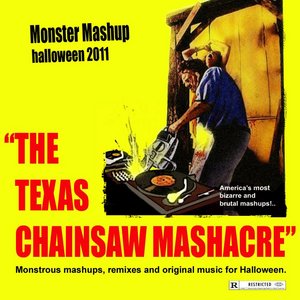 The compilation of Halloween monster mashup is coming this year too.
Ready for the special night.
今年もハロウィンマッシュアップの季節がやってきました。
2004年から始まったこのシリーズも、なんと今年で8年目。
今年のクオリティもなかなか高いです。
TRACKLISTING
CD1:
INTRO
DJ BRITBOY - CORNELIUS ISLAND
DIVIDE & KREATE - THREE MONSTERS
CHEEKYBOY - NO ONE LIVES FOREVER UNINVITED
BUDTHEWEISER - THE TEXAS DUCK SAUCE MASSACRE
VOICEDUDE - MOVES LIKE A DEADMAU5
AMORABOY - DOORSBUSTERS
STICKS DOWNEY - C.H.U.D.
TOTOM - BUFFY THE TOCCATA SLAYER FREAKS OUT
SOLCOFN - DEVIL DONOR
A PLUS D PSYCHO KILLER ON THE DANCEFLOOR
LEEDM101 - DOUGAN'S GHOST
STEFANO ERCOLINO & KATIA SIMIONI - COME TO ME (FRIGHT NIGHT REMIX)
G4GORILLA - BRING FRANKENSTEIN BACK TO MY STREET
VOICEDUDE - STRANGE RUCH TO REGULATE EVIL DEEDS
CHEEKYBOY - LIVING DEAD TEMPER BABY
FROGTHEDAWG - ALABAMA BOOM
DJ USEO - DONT JUST STAND THERE BILLY THE MONSTER
mARKYbOY - THE KILLING MASH
CD2:
DR FLAY - HOUSE OF 1000 UNREAL ZOMBIES
STEFANO ERCOLINO - DEEP RED (REMIX)
BINGE MACHINE - ICE CREAMED
STEVE QUINN - JUDAS (THE DEAD MIX)
MR SHADOWCHASER - DUNWICH MASH
FROG THE DAWG - CHICKEN HUNTIN
FETTDOGG - BORG SLIPPY
CHEEKYBOY - OMENS 'N' STUFF
STEFANO ERCOLINO - X TERROR SCIENCE (REMIX)
STOOGES HALLOWEEN PROMO
DJ USEO - HALLOWEEN PUMPA
STEFANO ERCOLINO - ADDAMS FAMILY
EL CREEPO FT COUNT SPATULA - HOUSE ON HAUNTED HILL
ALAN BLACK - WHATS HE BUILDING
MR SHADOWCHASER - THE SAD FATE OF THE ELIZABETH DANE
http://www.monstermashups.co.uk/