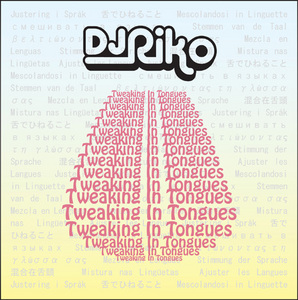 Here is
DJ Riko
's new mix which has released his website.
According to the website, "It features vocals and vocal samples in Spanish, Japanese, German, a made-up language, French, Farsi, Korean and more. And don't worry, there's plenty of English in there, too."
Yes, it's true and Japanese Indie artists, YMCK and Tigarah are included.
Borderless and genreless. Recommend this stuff to someone who starts going off electro music.
久しぶりに
DJ Riko
のMixが到着。
彼曰く、英語だけでなく、スペイン語、日本語、ドイツ語、フランス語、ペルシャ語などのボーカルの曲、ボーカルサンプリングを使用したとのこと。
確かに、8bitサウンドで話題となったYMCKや最近ついに日本デビューしたTigarahのマッシュアップなどが入ってます。
国境だけでなく、サウンドはDJ Rikoらしいジャンルレスなオールミックスになっています。
エレクトロに飽き始めている人には新鮮かもしれません。
DJ Riko - Tweaking in TonguesTRACKLISTING

Sam Cooke - Having a Party
Dan Deacon - Woof Woof
Mexican Institute of Sound - Escribeme Pronto
Kid Sister - Get Fresh (Zombie Nation Remix)
YMCK - Sarada Shabadaba (Salad Shabadaba)
Sigur Ros - Gobbledigook
Skeewiff - Delta Dawn
DJ Riko - Happy When I Get It In (50 Cent vs Royksopp)
Phenomenal Handclap Band - 5 10 15 20
Super Furry Animals - Inaugural Trams
Riceboy Sleeps - Howl
Pimsleur - Tongues
The Pretenders - Break Up The Concrete
Mexican Institute of Sound - Yo Digo Baila
DJ Riko - Australia vs Japan (Presets vs Tigarah)
Pomegranates - Southern Ocean
Mexican Institute of Sound - Sinfonia Agridulce