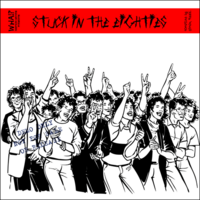 Simon Iddol released the 7th? compilation album "Wha!?" yesterday.
it contains of 18 bootlegs featuring 80's classics by 18 world-class
bootleggers, GHP and Party Ben so on, and inncludes an exclusive previously exclusive track.
Simon Iddolによる、マッシュアップ・コンピレーションアルバム
"Wha!?"の第七弾が昨日公開されました。
今回は80sをコンセプトとし、GHPやParty Benなどの18人の世界レベルの
ブートレガー達がこのアルバムに参加しています。
ここでしか聴けない限定トラックも収録されています。
TRACKLISTING
01 Girls just wanna dance with somebody // EARLYBIRD
(Whitney Houston vs Cindy Lauper)
02 Kiss and Dance.mp3 // Dj Moule
(Prince Vs Genesis)
03 in the house tonight // DJ BC
(Phil Collins vs NWA)
04 Fade to pretty vacant(A Copycat Mash) // Copycat
(Visage VS Sex Pistols VS Charlatans VS Nouvelle Vague VS Fun Lovin' Criminals)
05 Rude boy in a forest // DJ Zebra
(La Phaze vs. The Cure)
06 catch a love song // Bobby Martini
(the Cure VS Kosheen)
07 A new treasure // Divide & Kreate
(Gabriel & Dresden VS U2)
08 Big School // team9
(Hot Chip vs. Peter Gabriel)
09 urgent signs // locK3Down
(Snoop Dogg ft Justin Timberlake vs Foreigner)
10 Everybody Party (Victo's Master) // ComaR
(Alex Gopher VS Madonna)
11 When the Pussycat Dolls Cry // Pheugoo
(Pussycat Dolls VS Prince)
12 Promiscuous With You // Party Ben
(Michael Jackson vs. Nelly Furtado)
13 Oh Yeah Yeah! // A plus D
(USHER vs. YELLO)
14 pink wedding // Go Home Productions
(Pink VS Billy Idol)
15 Maneater love // Divide & Kreate
(Nellty Furtado VS Bon Jovi)
16 I was made to love your titties // Simon Iddol
(the Trucks VS KISS)
17 Like Jesus or Not(Apollo Zero Reconstruct) // Apollo Zero
(Madonna vs Depeche Mode)
18 SAFARI LOVE // LOO & PLACIDO
(Aretha Franklin vs Elton John vs The Beatles vs the Pixies)
WHA!? bootleg compilation series presents
stuck in the eighties
You can download from clicking
at the end of the article (just only RAR file).