Mark Vidler, Go Home Productions, announced he has re-released his historical tracks 'Pistol Whipped EP' on the website. Originally this vinyl EP was firstly released in March 2004 on the Half Inch Recordings label. Initially, A main track "Ray Of Gob" he created for GYBO, which mixed 'Ray Of Light' with 'Pretty Vacant', was played by some DJ's on XFM in the UK and clubs and getting popular. Now, it's available for the first time as mp3's and downloading 7 tracks.
Also, his current remix will be included the new Soundtrack Remix album for the Japanese film
Tekkonkinkreet
, which the original soundtrack for the film was by Plaid. This remix CD will be added a special trailer produced by 'Addictive TV', one of world's top VJs.
Go Home ProductionsことMark Vidler氏が、2004年にリリースされたセックスピストルズとマドンナのマッシュアップ「Pistol Whipped EP」のMP3をウェブ上に公開しています。シングルトラックとなった「Ray of Gob」は、元々GYBO用に作られたトラックでしたが、イギリスのXFMやDJ達の間で人気が出て、2004年3月にレコードとして発売されました。その後も人気が高かったようで、今回初めてMP3として彼のウェブサイトに公開されたようです。
また、GHPは6月下旬に発売される予定の「
鉄コン筋クリートREMIX
」でもリミックスを1曲提供したようです。このリミックスアルバムには、特典として、2004年のVJコンテストNo.1の「Addictive TV」によるマッシュアップ・トレーラーも含まれているようです。そちらの方もかなり楽しみです。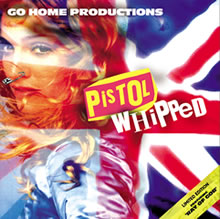 GO HOME PRODUCTIONS "PISTOL WHIPPED" (2004) Vinyl EP
1. Ray Of Gob (2004 Radio Edit)
2. Problems At The Gay Bar
3. No Feelings 4 Cher
4. Ray Of Gob (Extended)
5. Submusic
extra:
1. Ray Of Gob (Original)
2. God Save Madonna
Go Home Productions - Pistol Whipped
(Sex Pistols VS. Madonna)